The Harvard Club of St. Louis cordially invites you to attend a concert at Blue Strawberry by siblings Jocelyn and Chris Arndt, both recent graduates of the alma mater. They are rockers, with a big following in the northeast, and an emerging one in the Heartland. This show marks their St. Louis Debut. Club members will have the chance to meet and greet with Jocelyn and Chris and each other immediately after the show.
Blue Strawberry is an intimate, 100-seat listening room in the CWE, with dinner and drinks. You may make a reservation for dinner before and during the show. If you want to sit with a group of friends, email bluestrawberrystl@gmail.com with the names of the people you want to sit with. Blue Strawberry has a $15 food and/or drink minimum.
Click here to learn more and buy tickets: https://do314.com/events/2022/9/17/jocelyn-chris-tickets (*Promocode "HCSTL" for discount tickets + glass of wine)
What: Jocelyn & Chris at Blue Strawberry Showroom and Lounge
When: Sept 17, 2022
Where: 364 N. Boyle Ave, St. Louis, Missouri 63108
When: 7:30 PM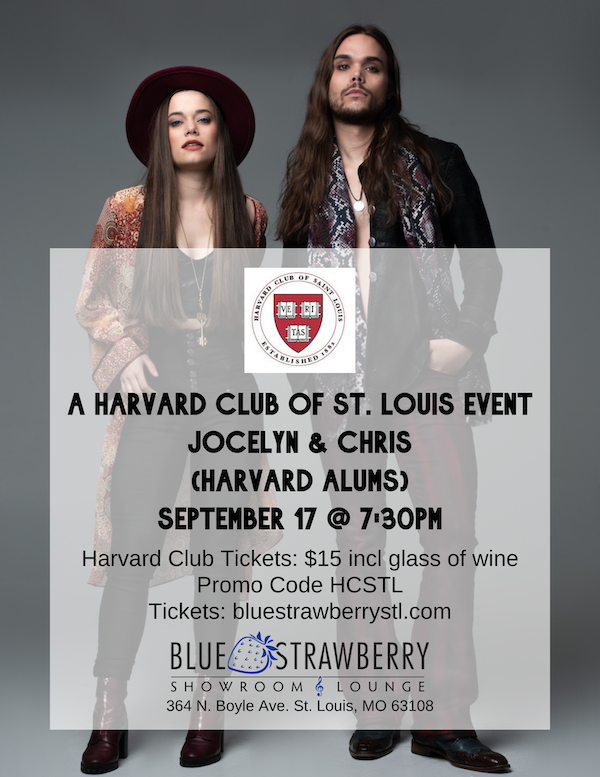 JOCELYN & CHRIS – SHORT-FORM BIO
Volume… Loud. Hair… Long. Apologies… None. Think rock is dead? Meet Jocelyn & Chris. Two analog souls hell-bent on inciting a new rock revival.
Jocelyn & Chris and their band have charted five consecutive commercial radio singles in the Billboard AAA Top 40, taken two records to #1 on the Relix Jambands Top 30 Album Chart, and appeared nationally on NBC's Today Show. The siblings, both recent graduates of Harvard University, have balanced college with performances coast to coast and recording seven records featuring special guests including Cory Wong (Vulfpeck), G. Love, Byron Isaacs (Lumineers), and Gov't Mule's Danny Louis. Their upcoming album "Favorite Ghosts" gained immediate attention with leadoff single "Sugar and Spice," which American Songwriter hailed as "pure American rock goodness." The retro-funk anthem was a most-added commercial radio track across the US, and earned Jocelyn & Chris their fourth consecutive Billboard AAA Top 40 radio single, remaining on the chart for 14 weeks.
Following "Sugar and Spice," Jocelyn & Chris released "Run Away," an anthemic pop-rock track that channels the all-too-relatable feeling of losing hope - and then finding it again through a fresh perspective and a musical escape. "Run Away" premiered with Relix and has quickly garnered press and adds from MTV, Celebrity Access, Guitar World, and more. The infectiously powerful track was the Billboard Most Added song in Triple A radio in the US in its first week and has active support from 40+ stations nationwide, recently debuting in the Billboard Triple A Top 40.
And because radio centers on real people and their communities, Jocelyn & Chris have opted for a unique release approach that defies industry convention. Their album "Favorite Ghosts" was given to radio exclusively prior to offering the record via streaming services this fall. Personal connection has long made radio and the people who program it a special focus for Jocelyn & Chris - and the listeners at radio's heart will always be where they choose to tell their story first.
Look for Jocelyn & Chris and their band showcasing music from the new record on the road across the US this summer and fall on their Favorite Ghosts tour, including a first-time appearance at Bourbon & Beyond in Louisville, KY, and a return to Milwaukee's Summerfest in addition to dates supporting New Pornographers, Filter, G. Love, and more. Media coverage for Jocelyn & Chris includes NBC Today Show, Baeble, Guitar World, American Songwriter, Huffington Post, NowThis, Paste, Daily Mail, Sirius XM, The Daily Beast, Cheddar TV, People, Jam in the Van, Hollywood Reporter, Boston Herald, and numerous others.
"Run Away" music video: https://www.youtube.com/watch?v=vRDZabq2_dU