R. William "Bill" Morris (AB 1968)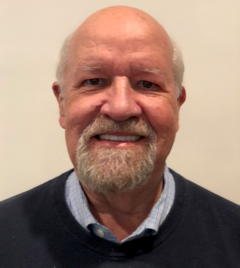 Bill Morris, Harvard Club of St. Louis President 2019-21, is a born and dedicated South Sider, who grew up in the Swinging Sixties on Imo's Pizza, Cardinals baseball, and Ted Drewes' frozen custard. Since Harvard, he earned an MD from SLU, an MBA from Wash U, boards in Internal Medicine, Hematology and Medical Oncology. He trained in Cancer Medicine at the University of Texas MD Anderson Cancer Center, as well as the University of Missouri Ellis Fischel Cancer Center, and Tulane's Charity Hospital. As the Founder and CEO of St. Louis Oncology Associates, Inc., Bill's career included patient care, teaching, and leadership roles.
During more than forty years of morning-to-late-hour private practice, cancer center directorships, never-ending meetings, NIH-funded research plus faculty appointments at SLU, SIU, and Wash U, Bill stayed married to his loving wife, Mary Louise, and raised four children and 5 grandchildren, whose exorbitant private school and college tuitions kept him harried and poor.
Bill is the long-serving President of the ACE Investment Club, Co-Founder of the (secret) 628 Society, a prior Chair of the Washington University in St. Louis Arts & Sciences Annual Fund, plus an active member of the Wash U Arts & Sciences National Council. Bill is proudest, however, of his time as the Lead Singer and Front-man of Da BOMB (The Bald Old Men's Band), a Physicians' Retro Rock group. Despite being heavily treated for years, he remains a struggling but humble and recovering Elvis Impersonator, and claims that his voice is better than ever!
A member of the Harvard Club of St. Louis for over 50 years, Bill is honored to have served as its President. He is most pleased with the club's commitment to interviewing, networking, improving education for the underserved and community service to the people of St. Louis. He looks forward to celebrating our HCSL 140th Founding Symposium and Dinner in Spring 2022 with keynote speaker, Harvard President Larry Bacow. He really wants to thank all St. Louis Harvard Club alumni for their tireless work for our graduates, our school, our town, and its people!