Dan Cooper (AB 2012; MBA 2019)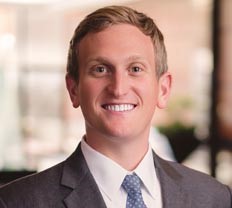 A native St. Louisan, Dan Cooper currently serves as a Vice President at Thompson Street Capital Partners, a middle market private equity firm based in St. Louis. At Thompson Street, Dan leads the firm's efforts in information services investing and also supports investments across a broad range of industries. He serves on the Board of Directors of GovSpend, a provider of government spend intelligence solutions to government vendors and agencies and Len The Plumber, a large residential services provider in the middle Atlantic.
After graduating from Harvard College in 2012, Dan began his career in New York City in Credit Suisse's Mergers & Acquisitions investment banking group where he worked on transactions in a variety of industries, including healthcare, industrials, and oil and gas. After Credit Suisse, Dan became an Associate at New Mountain Capital, a New York-based private equity firm managing over $30 billion in assets where he supported the execution of investments in several healthcare technology companies. Dan moved back to Cambridge in 2017 to pursue his MBA at Harvard Business School and graduated in 2019.
Dan and his wife, Emily, moved to St. Louis in 2019, and they have a son, Teddy, and daughter, Charlotte. Dan currently serves as the Vice President of Young Alumni on the Harvard Club of St. Louis' Executive Committee.