Ruth S. Raskas (AB 1996)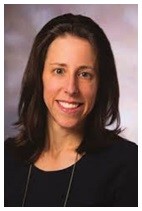 Ruth is a Vice President at Anthem, Inc. and is focused on improving population health. She currently leads Channel Strategy for the company's Artificial Intelligence team. She works with physicians to implement digital tools including enhanced clinical analytics and artificial intelligence triage. In addition, she leads a Provider Digital Advisory Group that convenes providers from across the country to provide thought leadership on digital strategy to improve health care. She works closely with the health care start up community to identify technology partners and uses human centered design to implement these technologies in the health care ecosystem.
Ruth is passionate about engaging physicians to help drive better health outcomes. At Anthem, she launched the company's Provider Experience team establishing the system for measuring satisfaction and identifying the key ways to improve metrics and drive better collaboration. Prior to this role, she led a Community Health team which created public private partnerships to drive better care in a variety of areas including smoking cessation and diabetes management and driving the work of Patient Centered Medical Homes, https://www.healthaffairs.org/doi/full/10.1377/hlthaff.2012.0364. She has worked closely with many external public health leaders including the CDC, serving on their Public Health Collaboration work group as well as the Partnership for a Healthier America and Let's Move (started by Michelle Obama). She also functioned as the Chief of Operating Officer for the Chief Medical Officer of the Company. Prior to joining Anthem, Ruth worked as an attorney for Thompson Coburn LLP.
Ruth has enjoyed her work with the Harvard Club of St. Louis, enabling her to connect with many wonderful graduates in St. Louis from Harvard. In particular, she has enjoyed co-chairing the Schools and Scholarships Committee, because it has enabled her to meet so many young leaders in the community.
Ruth has also volunteered extensively with the St. Louis Jewish Federation, including leading the Planning and Allocations Committee, the group that allocated the funds that are raised to those in need both in St. Louis and around the world. In addition, she served on the Board for many years and participated in a wide range of committees including Strategic Planning and the Community Demographic Study. Ruth also served on the Board of the Saul Mirowitz Jewish Community School. She was also one of the twenty individuals chosen for the St. Louis Wexner Heritage Fellowship and she received the St. Louis Jewish Federation's Young Leadership Award in 2012. She is a Board Member of the Shalom Hartman Institute.
Ruth was a 96' graduate of Harvard (Leverett House) and loved the years she spent there and the lifetime friends that she made. Ruth received her law degree from the Georgetown University Law Center in 2002. Ruth is married to Nigel Ohrenstein and they have three children. She is currently spending time in New York (great timing!), where her husband runs the eastern region for Lumeris.